Biblical Man: Being Strong and Grounded in These 100 Verses For Men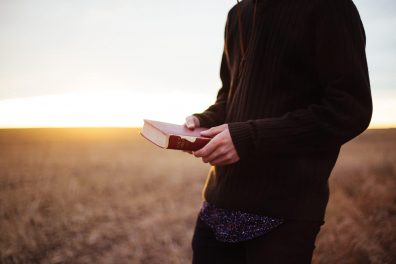 What does it mean to be a Biblical man? 
Being a man of God can certainly be very tough at times and harder than we initially expect. What are the characteristics of a godly man? One who acts justly, loves mercy, and walks humbly alongside God while obeying all His commands and shunning deception and manipulation. While this world offers many temptations that can lead us astray from God, we can find assurance within studying God's word to find the guidance and strength we need to overcome.
A Biblical man, or a man of the Bible stays grounded in the Word. 
To help you with it, here are a few verses to keep you inspired and help you get through the day.
And said, 'Therefore a man shall leave his father and his mother and hold fast to his wife, and the two shall become one flesh'? – Matthew 19:5, ESV

Wives, submit to your own husbands, as to the Lord. For the husband is the head of the wife even as Christ is the head of the church, his body, and is himself its Savior. Now as the church submits to Christ, so also wives should submit in everything to their husbands. Husbands, love your wives, as Christ loved the church and gave himself up for her, – Ephesians 5:22-25, ESV

And I sought for a man among them who should build up the wall and stand in the breach before me for the land, that I should not destroy it, but I found none. – Ezekiel 22:30, ESV

Fear not, for I am with you; be not dismayed, for I am your God; I will strengthen you, I will help you, I will uphold you with my righteous right hand. – Isaiah 41:10, ESV

How can a young man keep his way pure? By guarding it according to your word. With my whole heart I seek you; let me not wander from your commandments! I have stored up your word in my heart, that I might not sin against you. Blessed are you, O Lord; teach me your statutes! With my lips I declare all the rules of your mouth. – Psalm 119: 9-13, ESV

And he humbled you and let you hunger and fed you with manna, which you did not know, nor did your fathers know, that he might make you know that man does not live by bread alone, but man lives by every word that comes from the mouth of the Lord. – Deuteronomy 8:3, ESV

For while bodily training is of some value, godliness is of value in every way, as it holds promise for the present life and also for the life to come. – 1 Timothy 4:8, ESV

The Lord God took the man and put him in the garden of Eden to work it and keep it. – Genesis 2:15, ESV

Fathers, do not provoke your children to anger, but bring them up in the discipline and instruction of the Lord. – Ephesians 6:4, ESV

God is spirit, and those who worship him must worship in spirit and truth." – John 4:24, ESV

So God created man in his own image, in the image of God he created him; male and female he created them. – Genesis 1:27, ESV

Then the Lord God formed the man of dust from the ground and breathed into his nostrils the breath of life, and the man became a living creature. – Genesis 2:7, ESV

Be watchful, stand firm in the faith, act like men, be strong. – 1 Corinthians 6:13, ESV

How can a young man keep his way pure? By guarding it according to your word. – Psalm 119:9, ESV

For the word of God is living and active, sharper than any two-edged sword, piercing to the division of soul and of spirit, of joints and of marrow, and discerning the thoughts and intentions of the heart. – Hebrews 4:12, ESV

And he said, "O man greatly loved, fear not, peace be with you; be strong and of good courage." And as he spoke to me, I was strengthened and said, "Let my lord speak, for you have strengthened me." – Daniel 10:19, ESV

Be watchful, stand firm in the faith, act like man , be strong. Let all that you do be done in love. – 1 Corinthians 16:13-14, ESV

For in him the whole fullness of deity dwells bodily, – Colossians 2:9, ESV

All Scripture is breathed out by God and profitable for teaching, for reproof, for correction, and for training in righteousness, that the bible  man of God may be competent, equipped for every good work. – 2 Timothy 3: 16-17, ESV

He is the radiance of the glory of God and the exact imprint of his nature, and he upholds the universe by the word of his power. After making purification for sins, he sat down at the right hand of the Majesty on high, – Hebrews 1:3, ESV

Praise the Lord! Blessed is the man who fears the Lord, who greatly delights in his commandments! His offspring will be mighty in the land; the generation of the upright will be blessed. Wealth and riches are in his house, and his righteousness endures forever. Light dawns in the darkness for the upright; he is gracious, merciful, and righteous. It is well with the man who deals generously and lends; who conducts his affairs with justice. – Psalm 112: 1-5, ESV

Above all, keep loving one another earnestly, since love covers a multitude of sins. – 1 Peter 4:8, ESV

To the choirmaster. A Psalm of David, when Nathan the prophet went to him, after he had gone in to Bathsheba. Have mercy on me, O God, according to your steadfast love; according to your abundant mercy blot out my transgressions. Wash me thoroughly from my iniquity, and cleanse me from my sin! For I know my transgressions, and my sin is ever before me. Against you, you only, have I sinned and done what is evil in your sight, so that you may be justified in your words and blameless in your judgment. – Psalm 51: 1-4, ESV

Husbands, love your wives, as Christ loved the church and gave himself up for her, – Ephesians 5:25, ESV

Iron sharpens iron, and one man sharpens another. – Proverbs 27:17, ESV

"Whoever sheds the blood of man, by man shall his blood be shed, for God made man in his own image. – Genesis 9:6, ESV

Therefore a man shall leave his father and his mother and hold fast to his wife, and they shall become one flesh. – Genesis 2:24, ESV

 Therefore, confess your sins to one another and pray for one another, that you may be healed. The prayer of a righteous person has great power as it is working. – James 5:16, ESV

Let no one despise you for your youth, but set the believers an example in speech, in conduct, in love, in faith, in purity. – 1 Timothy 4:12, ESV

I told you that you would die in your sins, for unless you believe that I am he you will die in your sins." – John 8:24, ESV

Finally, be strong in the Lord and in the strength of his might. Put on the whole armor of God, that you may be able to stand against the schemes of the devil. For we do not wrestle against flesh and blood, but against the rulers, against the authorities, against the cosmic powers over this present darkness, against the spiritual forces of evil in the heavenly places. Therefore take up the whole armor of God, that you may be able to withstand in the evil day, and having done all, to stand firm. – Ephesians 6: 10-13, ESV

So we do not lose heart. Though our outer self is wasting away, our inner self is being renewed day by day. – 2 Corinthians 4:16, ESV

Blessed is the man who walks not in the counsel of the wicked, nor stands in the way of sinners, nor sits in the seat of scoffers; but his delight is in the law of the Lord, and on his law he meditates day and night. He is like a tree planted by streams of water that yields its fruit in its season, and its leaf does not wither. In all that he does, he prospers. The wicked are not so, but are like chaff that the wind drives away. – Psalm 1:1-4, ESV

Likewise, you who are younger, be subject to the elders. Clothe yourselves, all of you, with humility toward one another, for "God opposes the proud but gives grace to the humble." – 1 Peter 5:5, ESV

I appeal to you therefore, brothers, by the mercies of God, to present your bodies as a living sacrifice, holy and acceptable to God, which is your spiritual worship. Do not be conformed to this world, but be transformed by the renewal of your mind, that by testing you may discern what is the will of God, what is good and acceptable and perfect. – Romans 12:1-2

No temptation has overtaken you that is not common to bible   man. God is faithful, and he will not let you be tempted beyond your ability, but with the temptation he will also provide the way of escape, that you may be able to endure it. – 1 Corinthians 10:13, ESV

But above all, my brothers, do not swear, either by heaven or by earth or by any other oath, but let your "yes" be yes and your "no" be no, so that you may not fall under condemnation. – James 5:12, ESV

Because, if you confess with your mouth that Jesus is Lord and believe in your heart that God raised him from the dead, you will be saved. – Romans 10:9, ESV

And the angel of the Lord appeared to him and said to him, "The Lord is with you, O mighty man of valor." – Judges 6:12, ESV

For I want you to know, brothers, that our fathers were all under the cloud, and all passed through the sea, and all were baptized into Moses in the cloud and in the sea, and all ate the same spiritual food, and all drank the same spiritual drink. For they drank from the spiritual Rock that followed them, and the Rock was Christ. – 1 Corinthians 10:1-4, ESV

But if anyone does not provide for his relatives, and especially for members of his household, he has denied the faith and is worse than an unbeliever. – 1 Timothy 5:8, ESV

And let us consider how to stir up one another to love and good works, not neglecting to meet together, as is the habit of some, but encouraging one another, and all the more as you see the Day drawing near. – Hebrews 10:24-25, ESV

The end of the matter; all has been heard. Fear God and keep his commandments, for this is the whole duty of man. – Ecclesiastes 12:13, ESV

Thomas answered him, "My Lord and my God!" – John 20:28, ESV

Likewise, you who are younger, be subject to the elders. Clothe yourselves, all of you, with humility toward one another, for "God opposes the proud but gives grace to the humble." Humble yourselves, therefore, under the mighty hand of God so that at the proper time he may exalt you, casting all your anxieties on him, because he cares for you. Be sober-minded; be watchful. Your adversary the devil prowls around like a roaring lion, seeking someone to devour. Resist him, firm in your faith, knowing that the same kinds of suffering are being experienced by your brotherhood throughout the world. – 1 Peter 5: 5-9, ESV

That which is born of the flesh is flesh, and that which is born of the Spirit is spirit. – John 3:6, ESV

He is a double-minded man, unstable in all his ways. – James 1:8, ESV

Do you not know that in a race all the runners run, but only one receives the prize? So run that you may obtain it. Every athlete exercises self-control in all things. They do it to receive a perishable wreath, but we an imperishable. – 1 Corinthians 9:24-25, ESV

Show yourself in all respects to be a model of good works, and in your teaching show integrity, dignity, – Titus 2:7, ESV

Or how can someone enter a strong man's house and plunder his goods, unless he first binds the strong man? Then indeed he may plunder his house. – Matthew 12:29, ESV

In the beginning was the Word, and the Word was with God, and the Word was God. – John 1:1, ESV

Rejoice not over me, O my enemy; when I fall, I shall rise; when I sit in darkness, the Lord will be a light to me. – Micah 7:8, ESV

I can do all things through him who strengthens me. – Philippians 4:13, ESV

Know this, my beloved brothers: let every person be quick to hear, slow to speak, slow to anger; for the anger of man does not produce the righteousness of God. – James 1:19-20

And the Word became flesh and dwelt among us, and we have seen his glory, glory as of the only Son from the Father, full of grace and truth. – John 1:14, ESV

But of the Son he says, "Your throne, O God, is forever and ever, the scepter of uprightness is the scepter of your kingdom. – Hebrews 1:8, ESV

But as for you, O man of God, flee these things. Pursue righteousness, godliness, faith, love, steadfastness, gentleness. – 1 Timothy 6:11, ESV

Great indeed, we confess, is the mystery of godliness: He was manifested in the flesh, vindicated by the Spirit, seen by angels, proclaimed among the nations, believed on in the world, taken up in glory. – 1 Timothy 3:16, ESV

 Jesus answered, "Truly, truly, I say to you, unless one is born of water and the Spirit, he cannot enter the kingdom of God. – John 3:3, ESV

"I am about to go the way of all the earth. Be strong, and show yourself a man, – 1 Kings 2:2, ESV

Be strong and courageous. Do not fear or be in dread of them, for it is the Lord your God who goes with you. He will not leave you or forsake you." – Deuteronomy 31:6, ESV

And if it is evil in your eyes to serve the Lord, choose this day whom you will serve, whether the gods your fathers served in the region beyond the River, or the gods of the Amorites in whose land you dwell. But as for me and my house, we will serve the Lord." – Joshua 24:15, ESV

If we confess our sins, he is faithful and just to forgive us our sins and to cleanse us from all unrighteousness. – 1 John 1:9, ESV

For to us a child is born, to us a son is given; and the government shall be upon his shoulder, and his name shall be called Wonderful Counselor, Mighty God, Everlasting Father, Prince of Peace. – Isaiah 9:6, ESV

When I was a child, I spoke like a child, I thought like a child, I reasoned like a child. When I became a man, I gave up childish ways. – 1 Corinthians 13:11, ESV

Now I want to remind you, although you once fully knew it, that Jesus, who saved a people out of the land of Egypt, afterward destroyed those who did not believe. – Jude 1:5, ESV

"For God so loved the world, that he gave his only Son, that whoever believes in him should not perish but have eternal life. – John 3:16, ESV

Or do you not know that the unrighteous will not inherit the kingdom of God? Do not be deceived: neither the sexually immoral, nor idolaters, nor adulterers, nor men who practice homosexuality, nor thieves, nor the greedy, nor drunkards, nor revilers, nor swindlers will inherit the kingdom of God. – 1 Corinthians 6:9-10, ESV

Do you see a man skillful in his work? He will stand before kings; he will not stand before obscure men. – Proverbs 22:29, ESV

All things were made through him, and without him was not any thing made that was made. – John 1:3, ESV

One of the young men answered, "Behold, I have seen a son of Jesse the Bethlehemite, who is skillful in playing, a man of valor, a man of war, prudent in speech, and a man of good presence, and the Lord is with him." – 1 Samuel 16:18, ESV

Seek the Lord and his strength; seek his presence continually! – 1 Chronicles 16:11, ESV

He has told you, O man, what is good; and what does the Lord require of you but to do justice, and to love kindness, and to walk humbly with your God? – Micah 6:8, ESV

A fool gives full vent to his spirit, but a wise man quietly holds it back. – Proverbs 29:11, ESV

Husbands, love your wives, and do not be harsh with them. – Colossians 3:19, ESV

Blessed is the one who reads aloud the words of this prophecy, and blessed are those who hear, and who keep what is written in it, for the time is near. – Revelations 1:3, ESV

Then God said, "Let us make man in our image, after our likeness. And let them have dominion over the fish of the sea and over the birds of the heavens and over the livestock and over all the earth and over every creeping thing that

creeps on the earth." – Genesis 1:26, ESV

He himself bore our sins in his body on the tree, that we might die to sin and live to righteousness. By his wounds you have been healed. – 1 Peter 2:24, ESV

For God did not send his Son into the world to condemn the world, but in order that the world might be saved through him. – John 3:17, ESV

For the husband is the head of the wife even as Christ is the head of the church, his body, and is himself its Savior. – Ephesians 5:23, ESV

Have I not commanded you? Be strong and courageous. Do not be frightened, and do not be dismayed, for the Lord your God is with you wherever you go." – Joshua 1:9, ESV

Thus says the Lord, the King of Israel and his Redeemer, the Lord of hosts: "I am the first and I am the last; besides me there is no god. – Isaiah 44:6, ESV

And what you have heard from me in the presence of many witnesses entrust to faithful men who will be able to teach others also. – 2 Timothy 2:2, ESV

Fathers, do not provoke your children, lest they become discouraged. – Colossians 3:21, ESV

When David's time to die drew near, he commanded Solomon his son, saying, "I am about to go the way of all the earth. Be strong, and show yourself a man, and keep the charge of the Lord your God, walking in his ways and keeping his statutes, his commandments, his rules, and his testimonies, as it is written in the Law of Moses, that you may prosper in all that you do and wherever you turn, – 1 Kings 2: 1-3, ESV

I will set shepherds over them who will care for them, and they shall fear no more, nor be dismayed, neither shall any be missing, declares the Lord – Jeremiah 23:4, ESV

Then the Lord God said, "It is not good that the man should be alone; I will make him a helper fit for him." – Genesis 2:18, ESV

I and the Father are one." The Jews picked up stones again to stone him. Jesus answered them, "I have shown you many good works from the Father; for which of them are you going to stone me?" The Jews answered him, "It is not for a good work that we are going to stone you but for blasphemy, because you, being a man, make yourself God." – John 10:30-33, ESV

For I know the plans I have for you, declares the Lord, plans for welfare and not for evil, to give you a future and a hope. – Jeremiah 29:11, ESV

This was why the Jews were seeking all the more to kill him, because not only was he breaking the Sabbath, but he was even calling God his own Father, making himself equal with God. – John 5:18, ESV

All Scripture is breathed out by God and profitable for teaching, for reproof, for correction, and for training in righteousness, – 2 Timothy 3:16, ESV

Keep your heart with all vigilance, for from it flow the springs of life. – Proverbs 4:23, ESV

The steps of a man are established by the Lord, when he delights in his way; – Psalm 37:23, ESV

When I saw him, I fell at his feet as though dead. But he laid his right hand on me, saying, "Fear not, I am the first and the last, and the living one. I died, and behold I am alive forevermore, and I have the keys of Death and Hades. – Revelations 1:17-18, ESV

David was greatly distressed, for the people spoke of stoning him, because all the people were bitter in soul, each for his sons and daughters. But David strengthened himself in the Lord his God. – 1 Samuel 30:6, ESV

Yet you do not know what tomorrow will bring. What is your life? For you are a mist that appears for a little time and then vanishes. – James 4:14, ESV

The Lord is my shepherd; I shall not want. He makes me lie down in green pastures. He leads me beside still waters. He restores my soul. He leads me in paths of righteousness for his name's sake. Even though I walk through the valley of the shadow of death, I will fear no evil, for you are with me; your rod and your staff, they comfort me. You prepare a table before me in the presence of my enemies; you anoint my head with oil; my cup overflows. – Psalm 23: 1-5, ESV

Let marriage be held in honor among all, and let the marriage bed be undefiled, for God will judge the sexually immoral and adulterous. – Hebrews 13:4, ESV

For by grace you have been saved through faith. And this is not your own doing; it is the gift of God, not a result of works, so that no one may boast. – Ephesians 2:8-9, ESV

Your word is a lamp to my feet and a light to my path. – Psalm 119:105, ESV