Bible Verses for Women: Top 100 Verses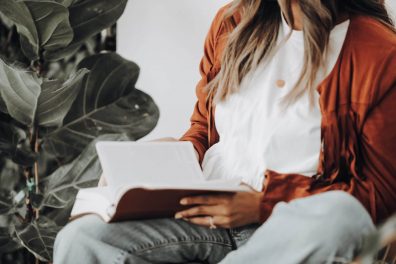 The Bible provides guidance for women who desire to become acknowledged by God, not restricted to physical appearance, but instructing upon morals and character as well. Learning to let go of our own earthly desires is a journey, but we must make an effort to change into women of God, who are in obedience with the word, so that we may reflect the heart of God to all. Expressing God's love through our words and actions is how we can glorify God every day.
Here are 100 inspirational Bible verses for reference as to how one can become a woman of God. 
For I know the plans I have for you, declares the Lord, plans for welfare and not for evil, to give you a future and a hope. – Jeremiah 29:11, ESV

The wisest woman builds her house, but folly with her own hands tears it down. – Proverbs 14:1, ESV

Therefore a man shall leave his father and his mother and hold fast to his wife, and they shall become one flesh. – Genesis 2:3-4, ESV

A foolish son is ruin to his father, and a wife's quarreling is a continual dripping of rain. – Proverbs 19:13, ESV

However, let each one of you love his wife as himself, and let the wife see that she respects her husband. – Ephesians 5:33, ESV

For man was not made from woman, but woman from man. Neither was man created for woman, but woman for man. – 1 Corinthians 11:8-9, ESV 

God is in the midst of her; she shall not be moved; God will help her when morning dawns. – Psalm 46:5, ESV

I also want the women to dress modestly, with decency and propriety, adorning themselves, not with elaborate hairstyles or gold or pearls or expensive clothes – 1 Timothy 2:9, ESV

This is the book of the generations of Adam. When God created man, he made him in the likeness of God. Male and female he created them, and he blessed them and named them Man when they were created. – Genesis 5:1-2, ESV

Give her of the fruit of her hands, and let her works praise her in the gates. – Proverbs 31:31, ESV

She opens her hand to the poor and reaches out her hands to the needy. – Proverbs 31:20, ESV

Some women were watching from a distance. Among them were Mary Magdalene, Mary the mother of James the younger and of Joseph, and Salome. In Galilee these women had followed him and cared for his needs. Many other women who had come up with him to Jerusalem were also there. – Mark 15:40-41, ESV

She opens her mouth with wisdom, and the teaching of kindness is on her tongue. – Proverbs 31:26, ESV

It is better to live in a corner of the housetop than in a house shared with a quarrelsome wife. – Proverbs 21:9, ESV

And the Scripture, foreseeing that God would justify the Gentiles by faith, preached the gospel beforehand to Abraham, saying, "In you shall all the nations be blessed." – Galatians 3:8, ESV

There is neither Jew nor Greek, there is neither slave nor free, there is no male and female, for you are all one in Christ Jesus. – Galatians 3:28, ESV

 For you formed my inward parts; you knitted me together in my mother's womb. – Psalm 139:13, ESV

An excellent wife who can find? She is far more precious than jewels. – Proverbs 31:10, ESV

It is better to live in a desert land than with a quarrelsome and fretful woman. – Proverbs 21:19, ESV

And blessed is she who believed that there would be a fulfillment of what was spoken to her from the Lord." – Luke 1:45, ESV

My flesh and my heard may fail, but God is the strength of my heart and my portion forever. – 1 Timothy 2:11-12, ESV

You are altogether beautiful, my love; there is no flaw in you. – Song of Solomon 4:7

But Ruth said, "Do not urge me to leave you or to return from following you. For where you go I will go, and where you lodge I will lodge. Your people shall be my people, and your God my God. Where you die I will die, and there will I be buried. May the LORD do so to me and more also if anything but death parts me from you." – Ruth 1:16-17, ESV

Older women likewise are to be reverent in behavior, not slanderers or slaves to much wine. They are to teach what is good, and so train the young women to love their husbands and children, to be self-controlled, pure, working at home, kind, and submissive to their own husbands, that the word of God may not be reviled. – Titus 2:3-5, ESV

My son, keep your father's commandment, and forsake not your mother's teaching. – Proverbs 6:20, ESV

The Lord is my strength and my shield; in him my heart trusts, and I am helped; my heart exults, and with my song I give thanks to him. – Psalm 28:7

Do not let your adorning be external—the braiding of hair and the putting on of gold jewelry, or the clothing you wear— but let your adorning be the hidden person of the heart with the imperishable beauty of a gentle and quiet spirit, which in God's sight is very precious. – 1 Peter 3:3-4, ESV

You will be a crown of splendor in the LORD's hand, a royal diadem in the hand of your God. – Isaiah 6:23, ESV

And so train the young women to love their husbands and children, to be self-controlled, pure, working at home, kind, and submissive to their own husbands, that the word of God may not be reviled. – Titus 2:45, ESV

or God gave us a spirit not of fear but of power and love and self-control. – 2 Timothy 1:7

But seek first the kingdom of God and His righteousness, and all these things will be added to you. – Matthew 6:33, ESV

For in Christ Jesus you are all sons of God, through faith. For as many of you as were baptized into Christ have put on Christ. There is neither Jew nor Greek, there is neither slave nor free, there is no male and female, for you are all one in Christ Jesus. And if you are Christ's, then you are Abraham's offspring, heirs according to promise. – Galatians 3:26-29, ESV

My beloved spoke and said to me, "Arise, my darling, my beautiful one, come with me. – Solomon 2:10, ESV

Like a gold ring in a pig's snout is a beautiful woman without discretion. – Proverbs 11:22, ESV

Charm is deceitful, and beauty is vain, but a woman who fears the Lord is to be praised. – Proverbs 31:30, ESV

Have I not commanded you? Be strong and courageous. Do not be frightened, and do not be dismayed, for the Lord your God is with you wherever you go." – Joshua 1:9, ESV

For you formed my inward parts; you knitted me together in my mother's womb. I praise you, for I am fearfully and wonderfully made. Wonderful are your works; my soul knows it very well. – Psalm 139:13-14, ESV

So God created man in his own image, in the image of God he created him; male and female he created them. – Genesis 1:27, ESV

You are altogether beautiful, my love; there is no flaw in you. – Solomon 4:7, ESV

For we are God's masterpiece – Ephesians 2:10, ESV

An excellent wife who can find? She is far more precious than jewels. The heart of her husband trusts in her, and he will have no lack of gain. She does him good, and not harm, all the days of her life. She seeks wool and flax, and works with willing hands. She is like the ships of the merchant; she brings her food from afar. – Proverbs 31:10-31, ESV

Blessed is she who has believed that the Lord would fulfill his promises to her! – Luke 1:45, ESV

Do not give your strength to women, your ways to those who destroy kings. – Proverbs 31:3, ESV

Wives, submit to your own husbands, as to the Lord. For the husband is the head of the wife even as Christ is the head of the church, his body, and is himself its Savior. Now as the church submits to Christ, so also wives should submit in everything to their husbands. – Ephesians 5:22-24, ESV

Do not rebuke an older man but encourage him as you would a father, younger men as brothers, older women as mothers, younger women as sisters, in all purity. – 1 Timothy 5:1-2, ESV

Wait for the Lord; be strong, and let your heart take courage; wait for the Lord! – Psalm 27:14

God is within her, she will not fall; God will help her at break of day. – Psalm 46:5, ESV

I am reminded of your sincere faith, a faith that dwelt first in your grandmother Lois and your mother Eunice and now, I am sure, dwells in you as well. – 2 Timothy 1:5, ESV

But every wife who prays or prophesies with her head uncovered dishonors her head, since it is the same as if her head were shaven. – 1 Corinthians 11:5, ESV

My people—infants are their oppressors, and women rule over them. O my people, your guides mislead you and they have swallowed up the course of your paths. – Isaiah 3:12, ESV

And who knows but that you have come to your royal position for such a time as this? – Esther 4:14, ESV

Wives, submit to your husbands, as is fitting in the Lord. – Colossians 3:18, ESV

The Lord your God is in your midst, a mighty one who will save; he will rejoice over you with gladness; he will quiet you by his love; he will exult over you with loud singing. – Zephaniah 3:17

For our citizenship is in heaven, from which we also eagerly wait for the Savior, the Lord Jesus Christ. – Philippians 3:2, ESV

Husbands, love your wives, as Christ loved the church and gave himself up for her. – Ephesians 5:25, ESV

But the Lord said to Samuel, "Do not look on his appearance or on the height of his stature, because I have rejected him. For the Lord sees not as man sees: man looks on the outward appearance, but the Lord looks on the heart. – 1 Samuel 16:7, ESV

Be strong and courageous. Do not fear or be in dread of them, for it is the Lord your God who goes with you. He will not leave you or forsake. – Deuteronomy 31:6, ESV

Their wives likewise must be dignified, not slanderers, but sober-minded, faithful in all things. – 1 Timothy 3:11, ESV

Behold, you are beautiful, my love, behold, you are beautiful! Your eyes are doves behind your veil. Your hair is like a flock of goats leaping down the slopes of Gilead. – Solomon 4:1, ESV

And we know that for those who love God all things work together for good, for those who are called according to his purpose. – Romans 8:28, ESV

Blessed are the pure in heart, for they shall see God. – Matthew 5:8, ESV

She opens her hand to the poor and reaches out her hands to the needy. She is not afraid of snow for her household, for all her household are clothed in scarlet. – Proverbs 31:20-21, ESV

It is better to live in a desert land than with a quarrelsome and fretful woman. – Proverbs 21:19, ESV

I praise you, for I am fearfully and wonderfully made. Wonderful are your works; my soul knows it very well. – Psalm 139:14, ESV

Now you are the body of Christ and individually members of it. – 1 Corinthians 12:27, ESV

Likewise, wives, be subject to your own husbands, so that even if some do not obey the word, they may be won without a word by the conduct of their wives, when they see your respectful and pure conduct. – 1 Peter 3:1-2, ESV

But by the grace of God I am what I am, and his grace toward me was not in vain. On the contrary, I worked harder than any of them, though it was not I, but the grace of God that is with me. – 1 Corinthians 15:10, ESV

You are not your own, for you were bought with a price. – 1 Corinthians 6:20, ESV

A gracious women gets honor, and violent men get riches. – Proverbs 11:16, ESV

I have been crucified with Christ; it is no longer I who live, but Christ lives in me; and the life which I now live in the flesh I live by faith in the Son of God, who loved me and gave Himself for me. – Galatians 2:20, ESV

He who finds a wife finds a good thing and obtains favor from the Lord. – Proverbs 18:22, ESV

For if you keep silent at this time, relief and deliverance will rise for the Jews from another place, but you and your father's house will perish. And who knows whether you have not come to the kingdom for such a time as this?" – Esther 4:14, ESV

An excellent wife is the crown of her husband, but she who brings shame is like rottenness in his bones. – Proverbs 12:24, ESV

Trust in the Lord with all your heart, and do not lean on your own understanding. In all your ways acknowledge him, and he will make straight your paths. – Proverbs 3:5-6, ESV

The Lord is my light and my salvation; whom shall I fear?




The Lord is the stronghold[a] of my life; of whom shall I be afraid? – Psalm 27:1, ESV

And you shall love the Lord your God with all your heart and with all your soul and with all your mind and with all your strength. – Mark 12:30, ESV

It is better to live in a corner of the housetop than in a house shared with a quarrelsome wife. – Proverbs 21:9, ESV

She is more precious than jewels, and nothing you desire can compare with her. Long life is in her right hand; in her left hand are riches and honor. Her ways are ways of pleasantness, and all her paths are peace. She is a tree of life to those who lay hold of her; those who hold her fast are called blessed. – Proverbs 3:15-18, ESV

I commend to you our sister Phoebe, a servant of the church at Cenchreae, that you may welcome her in the Lord in a way worthy of the saints, and help her in whatever she may need from you, for she has been a patron of many and of myself as well. – Romans 16:1-2, ESV

But I want you to understand that the head of every man is Christ, the head of a wife is her husband, and the head of Christ is God. – 1 Corinthians 11:3, ESV

But as for you, teach what accords with sound doctrine. – Titus 2:1, ESV

Nevertheless, woman is not independent of man nor man of woman; for as woman was made from man, so man is for women. And all things are from God. – 1 Corinthians 11:11-12, ESV

Nevertheless, in the Lord woman is not independent of man nor man of woman; for as woman was made from man, so man is now born of woman. And all things are from God. – 1 Corinthians 11:11-12

Then the Lord God said, "It is not good that the man should be alone; I will make him a helper fit for him." – Genesis 2:18, ESV

Be subject for the Lord's sake to every human institution, whether it be to the emperor as supreme, or to governors as sent by him to punish those who do evil and to praise those who do good. For this is the will of God, that by doing good you should put to silence the ignorance of foolish people. Live as people who are free, not using your freedom as a cover-up for evil, but living as servants of God. Honor everyone. Love the brotherhood. Fear God. Honor the emperor. – 1 Peter 2:13-17, ESV

 

"but in your hearts honor Christ the Lord as holy, always being prepared to make a defense to anyone who asks you for a reason for the hope that is in you; yet do it with gentleness and respect. – 1 Peter 3:15, ESV

God is our refuge and strength, a very present help in trouble. – Psalm 46:1

To the woman he said, "I will surely multiply your pain in childbearing; in pain you shall bring forth children. Your desire shall be for your husband, and he shall rule over you." – Genesis 3:16, ESV

Even though I walk through the valley of the shadow of death, I will fear no evil for you are with me; your rod and your staff, they comfort me. – Psalm 23:4, ESV

And without faith it is impossible to please him, for whoever would draw near to God must believe that he exists and that he rewards those who seek him. – Hebrews 11:6, ESV

Then they returned to Jerusalem from the mount called Olives, which is near Jerusalem, a Sabbath day's journey away. And when they had entered, they went up to the upper room, where they were staying, Peter and John and James and Andrew, Philip and Thomas, Bartholomew and Matthew, James the son of Alphaeus and Simon the Zealot and Judas the son of James. All these with one accord were devoting themselves to prayer, together with the women and Mary the mother of Jesus, and his brothers. – Acts 1:12-14, ESV

Strength and dignity are her clothing, and she laughs at the time to come. – Proverbs 31:25, ESV

But let your adorning be the hidden person of the heart with the imperishable beauty of a gentle and quiet spirit, which in God's sight is very precious. – 1 Peter 3:4, ESV

Being strengthened with all power, according to his glorious might, for all endurance and patience with joy. – Colossians 1:11

Husbands, love your wives, and do not be harsh with them. – Colossians 3:19, ESV

Therefore do not be anxious about tomorrow, for tomorrow will be anxious for itself. Sufficient for the day is its own trouble. – Matthew 6:34, ESV

For the Lord God is a sun and shield; the Lord bestows favor and honor; No good thing does he withhold from those who walk uprightly. – Psalm 84:11, ESV

Seek the Lord and his strength; seek his presence continually! – 1 Chronicles 16:11, ESV

But God shows his love for us in that while we were still sinners, Christ died for us. – Romans 5:8, ESV



Subscribe to our newsletter